Best Restaurants in Swindon Designer Outlet
23 February 2023
If you're ever in the Swindon area and are looking for a great place to eat, be sure to check out the restaurants at the Swindon Designer Outlet.
You'll find something for everyone here, whether you're looking for a quick bite or eating a sit-down meal.
And with plenty of parking available, it's easy to get to and from!
In this blog, we're going to discover the best places for dining at Swindon Designer Outlet and explore different signature dishes – sounds yummy, so let's get started!
Travelling to Swindon Designer Outlet
Swindon Designer Outlet is the perfect place for a great family day out.
Located just a 14 minute walk away from Swindon train station, it's easy to get to with First Great Western, and there's plenty of parking available too.
The centre offers an exciting selection of shops and restaurants, so you'll be spoilt for choice when it comes to finding something great to eat!
Da Vinci Restaurant
Da Vinci restaurant is a great place to be for comfort food and private dining.
They have a nice selection of meals from fresh delicious pizzas to more fancy small plates.
Almost every evening this restaurant also offers special discounts on their wine selection.
What is Traditional Italian Food?
Traditional Italian food is one of the most beloved cuisines in the world, and with good reason!
From sumptuous pasta dishes to hearty pizzas loaded with fresh flavours, there's something in Italy's national cuisine for everyone to enjoy.
And let's not forget about those beautiful focaccia breads – the perfect accompaniment to your favourite recipes!
But it isn't just pizzas, pastas, and breads that make up this incredible kitchen culture – traditional Italian food also includes a variety of veggies, meats, seafoods and cheeses as part of its repertoire.
Whether slow-cooked roasts or deliciously light salads with olive oil dressings, you can guarantee an unforgettable experience when you sample Italian cooking.
What's On the Menu at Da Vinci Restaurant?
Da Vinci Restaurant has a gorgeous selection of traditional Italian cuisine, and all at a budget friendly cost!
If you're doing some midday shopping, they have a delicious Express Lunch Menu from 12pm – 2.30pm where you can find all the classics such as lasagne, carbonara and salmon tagliatelle.
If you would like to try some innovative and new, be sure to give their tagliatelle ortolana and insalata di tonno con fagioli a whirl (more on this below)!
With plenty of vegetarian-friendly options too and an exciting array of pizza options, you can't go wrong with booking a table at Da Vinci Restaurant.
Don't Forget a Bottle of The House Red
Of course no Italian dining experience would be complete without a bottle of their house wine and a traditional Italian dessert or two, so grab some friends, an appetite and be sure to visit Da Vinci Restaurant during your next visit to the Swindon Designer Outlet Centre!
Don't Miss Their Takeaway Special Offer
The best part? They also allow for takeaway orders!
So if you want to enjoy your comfort food at home, you can pick up an order from Da Vinci and be sure not to miss out on their special offer when ordering through their website.
So What are Insalata Di Tonno Con Fagioli And Tagliatelle Ortolana?
Insalata Di Tonno Con Fagioli – Insalata di tonno con fagioli is a classic Italian dish often served in restaurants all over the country. It's a delicious combination of tuna and cooked beans, usually white beans or cannellini beans, with offerings of marinated artichokes, olives, and onions. The salad is usually dressed with lemon juice or vinaigrette, making it bursting with flavour. It's typically served as an appetizer or starter in most Italian eateries but can also be enjoyed as a light main too. So if you're ever looking for something like a salad to get your meal started right, try this traditional Italian favourite!

Tagliatelle Ortolana – Tagliatelle Ortolana is a traditional Italian dish that has been around for centuries. It's made with fresh bell peppers, courgette, herbs, and tagliatelle, which is a type of flat spaghetti. This vegetarian-friendly dish can be served warm or cold depending on your preference, and it's the perfect meal to enjoy on a warm summer evening. The combination of olive oil, garlic and tomato sauce gives it a delicious flavour that will keep you coming back for more – a simple yet deeply satisfying meal!
Wagamama
Next up is Wagamama!
Wagamama in Swindon is a must visit destination for anyone looking for an amazing culinary experience or just an enjoyable lunch or dinner with friends and family.
Located in Kemble Drive, Wagamama offers an extraordinary selection of good food for the soul, ranging from curries to steaming bowls of ramen noodles.
The atmosphere is buzzing with energy as tables are filled with customers having conversation and laughter over delicious dishes.
Everything about this experience says "enjoy yourself" and a meal at Wagamama will surely bring all sorts of happiness!
What Sort of Food Does Wagamama Serve?
Wonderfully fresh Japanese food!
If you've never been to Wagamamas, you're in for a treat.
Their restaurants are a little bit different to your box-standard eateries but you'll soon get the hang of it.
What Makes Wagamama Different to Other Restaurants?
For one, they have no booking option. So if you're looking for some pick-me-up Japanese food, you may be waiting a short while!
They're also set up as an authentic Japanese-style eating house, so if it's busy – expect to share a long table with people you don't know!
But don't worry because being British, no one will talk to you, even if you're brushing shoulders with someone struggling to eat a hot bowl of ramen with chopsticks.
Their food is outstandingly delicious and is ALWAYS fresh.
How fresh?
Well, so fresh that it doesn't matter how many plates you order and in what conventional way you ordered them, they will randomly arrive at the tables in the order of which ever dishes were fastest to be cooked. And always searingly hot. Always.
Show Me Some Delicious Menu Choices
Although not a vegan restaurant, Wagamama is BIG on their vegan options. They make the impossible, possible. Even vegan chilli 'squid' – which is incredible, by the way.
If you're a lover of gyozas and bao buns, loosen your belt a notch or two!
With tantalising choices such as Korean BBQ beef buns, vegan terikyaki 'chicken' buns and fresh duck gyoza, you're going to need the extra room!
Currently into wholefoods? Then you'll find their soul food menu a joy!
With large plates of nutritious salads ranging from chicken katsu salad to shu's shiok jackfruit with rice, you're definitely going to find a new favourite in these rainbow dishes.
For those of you that are loving the more traditional Japanese food, you can find excessively large ramen bowls with an array of different flavours and toppings, delicious donburi options, fresh off the grill teppanyaki dishes and of course, everyone's favourite – katsu curry!
Not only do they have a fantastic vegan menu, but they also offer a range of gluten free options as well as an innovative kids menu, so even the little ones will happy!
New to Japanese Food? Here is a Quick Guide to Choosing Your Next Dish
Donburi – Donburi is an amazing, filling dish that is a favourite among Japanese cuisine lovers. A donburi simply consists of a bowl of steamed rice complemented with cooked ingredients such as eggs, seafood, beef, and vegetables – all stir-fried together in a sauce. The best part about this meal is that it's versatile – meaning that you can enjoy it for breakfast, lunch or dinner. Whether it's just you, with friends or on a family outing, donburi also makes for a great communal meal experience at an affordable price. So if you're ever in need of some delicious comfort food, donburi should be your go-to option!

Gyozas – Gyozas are a type of dumpling that is incredibly popular in Japan. They are usually made with ground pork, chicken or seafood and a combination of spices and vegetables, encased within a thin wrapper that resembles a wonton wrapper. You can fry the gyozas or steam them; when fried they develop a crispy outer layer that gives way to an intensely flavorful filling. Gyozas are often served alongside mirin soy sauce for dipping, adding an extra layer of complexity to the overall flavour profile. A plate of gyozas makes for the perfect accompaniment to any meal, or as a snack or appetiser all by itself!

Teppanyaki – Teppanyaki is a style of Japanese cuisine that involves cooking food on a flat iron griddle in front of the diner. It commonly consists of meats, seafood, and vegetables. While the most recognisable version of teppanyaki usually features an entertaining head chef putting on a show with knives, spatulas, and fire, it can also be served as a more low-key experience. The difference between teppanyaki and other styles of Japanese cooking lies mainly in the teppan itself; the flat iron surface which allows for quick browning and searing of proteins while adding just a hint of smoky flavour to the dish. Whatever way you choose to experience it – as an exciting performance or just a delicious dinner – teppanyaki is sure to be an interesting twist on Japanese cuisine!
Harper's Steakhouse
Another fantastic entry to blaze into our best restaurants at Swindon Designer Outlet, Harper's Steakhouse at The Weighbridge!
If you're looking for a wondrous date night, a cosy family meal or a delicious dining experience – be sure to book a table at Harper's Steakhouse any day of the week (especially Sunday, but we'll get to that!).
Show Me the Food!
At Harper's Steakhouse, you can expect all the delicious main menu pub classics such as a burger and fries, tender steak and fish and chips. I say expect, what you'll actually get is something far greater!
Burgers at Harpers Steakhouse
First off, let me begin by mentioning that each one of their incredible burger options are served in a PRETZEL BUN! How amazing is that?! Instagram-worthy and delicious.
With many options to choose from, such as the popular mac n' cheese burger, the mouthwateringly crispy buttermilk chicken burger, a satifying Beyond Meat burger (one for the vegans) and even a crab burger, there's an option for any burger-loving foodie out there!
Each burger is also served alongside crispy skin on fries (I'm booking my table right now!).
Speciality Steaks at Harpers Steakhouse
Believe it or not, at Harper's Steakhouse you'll find… Steaks! And ruddy marvellous ones at that too.
Harper's pride themselves on their native, grass-fed and fresh-off-the-grill steaks that have been hand selected by their master butchers.
With options such as bistro rump, fillet, sirloin and large prime ribeye steaks, it's no wonder that when you're feeling a little peckish at Designer Outlet Swindon, the best restaurant to go to is Harpers Steakhouse, Swindon.
Also, did I mention that they have a gorgeous selection of sauces to match your perfectly cooked steak? These include your classic peppercorn, a red wine Bordelaise, chimichurri and garlic and parsley butter.
Your sides can also be customised for a carb-free dining option to fully loaded with mac n' cheese!
Oh Boy, There's Also Tacos!
Taco Monday, Taco Tuesday, Tacos any day of the week.
At Harper's Steakhouse you'll find tacos to suit whatever mood you're in. You can expect to find scrumptious options such as the baja fish taco, black bean taco and even a buffalo chicken taco.
On the same menu, you'll find tempting side plates including mac n' cheese bites, sticky sesame chicken, fully loaded hash browns and buffalo cauli wings – if you prefer a spicy vegan option!
Sunday's at Harper's Steakhouse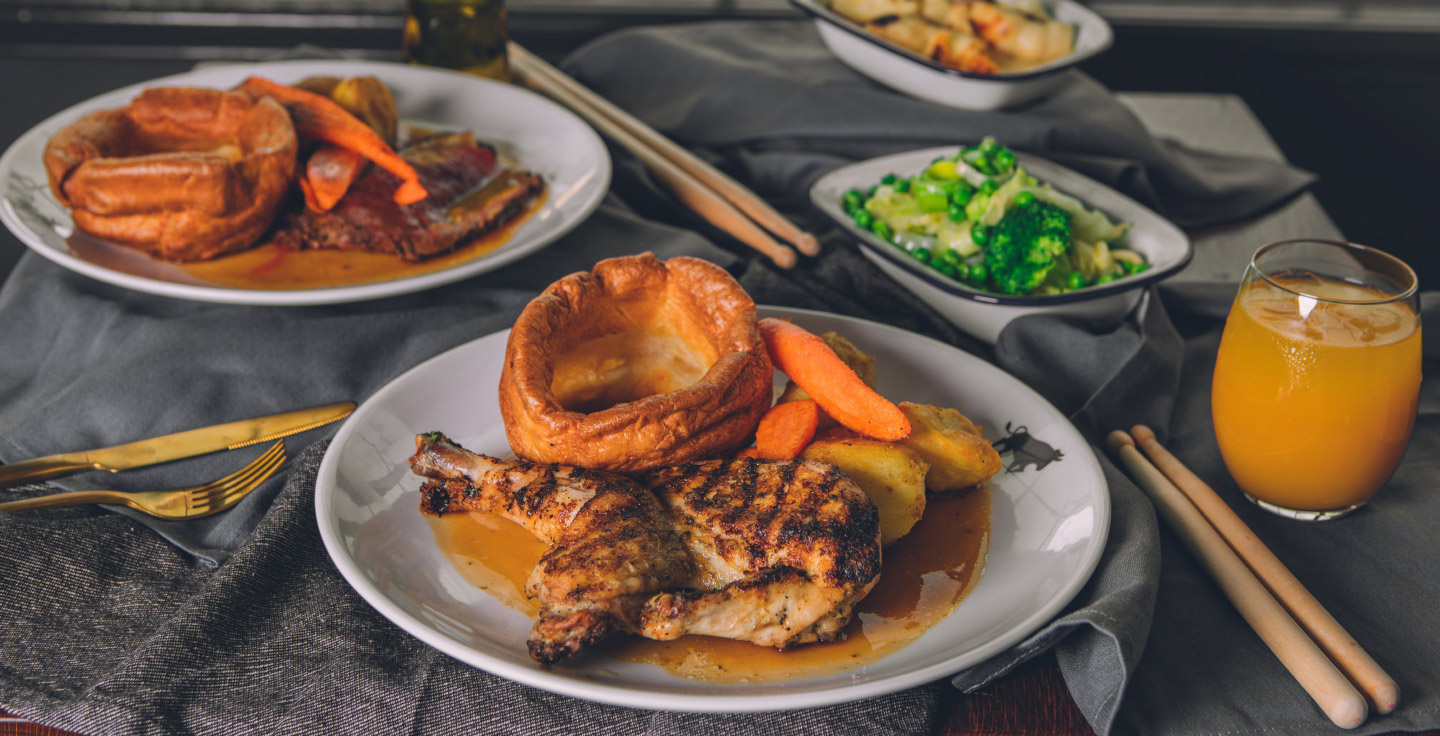 Time for the big 'Sunday reveal' at Harper's. UNLIMITED MAMMOTH YORKSHIRE PUDDINGS. H-to-the-Y! It's a dream come true – if you like Yorkshire puddings that is. Especially mammoth ones.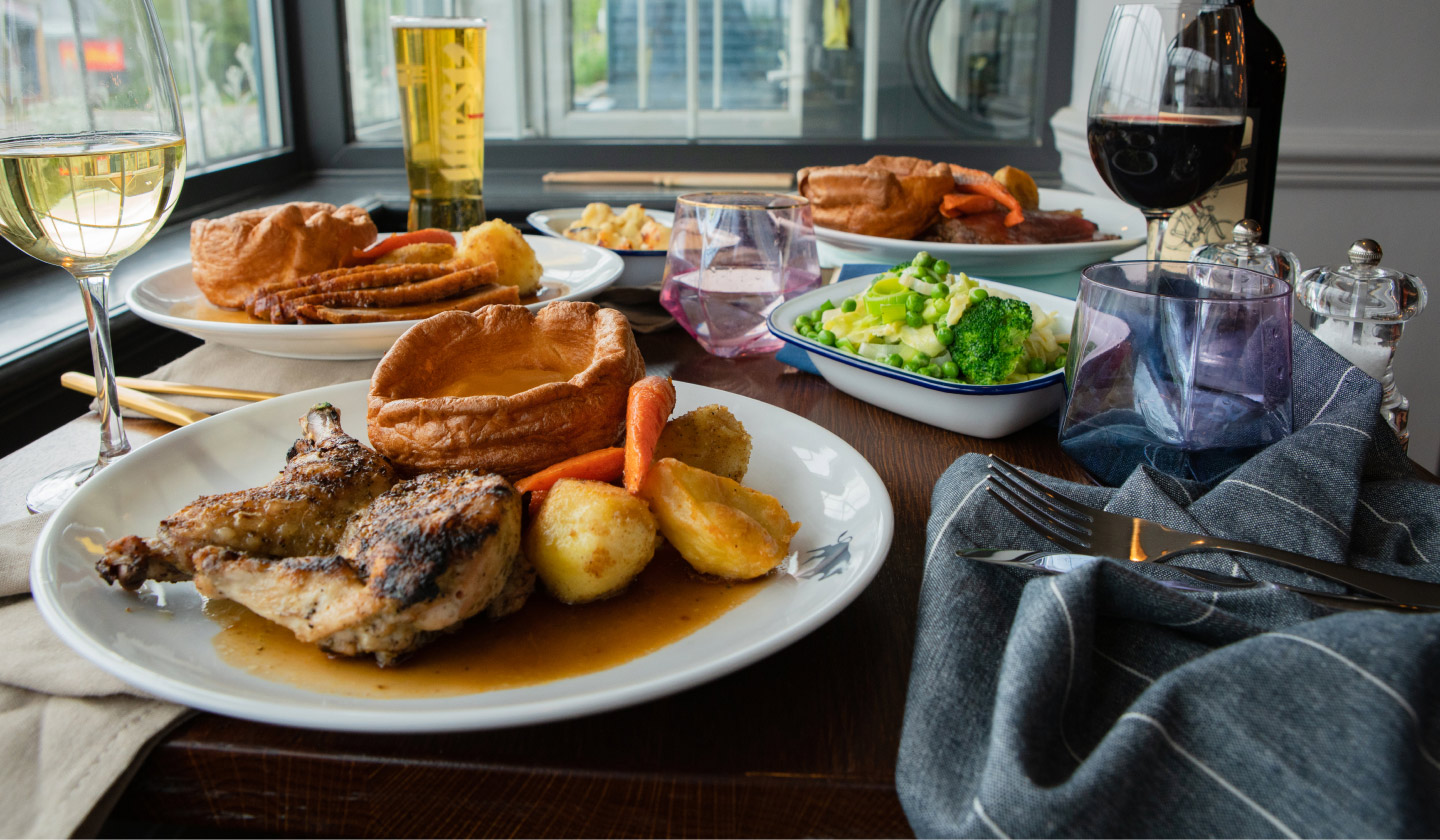 Their Sunday comfort food menu boasts of lazy breakfast options, a fully loaded Sunday roast menu with a vegan option and lashings of gravy AND even a two-course set meal menu for only £17.95.
You know where to book for your Sundays next time you're down town Swindon.
Drinks at Harper's Steakhouse
Of course you'll find gorgeous fine wine options on their fancy, yet budget-friendly wine menu but you'll also find popular cult cocktails, beers, mocktails, seasonal fancies and your classic mixer-and-spirits.
If you don't feel like eating a dine-in menu, you can enjoy some tasty bites while you sip away at your salted caramel s'mores martini in the bar area (yes, you read that correct. For the people at the back: A salted caramel s'mores martini!).
Rios Brazil
We're heading to Brazil for our next culinary adventure at Swindon Designer Outlet, this time for some smoky, all-you-can-eat Brazilian BBQ.
If you've never had a chance to visit a Brazilian BBQ restaurant, you're going to be in awe.
How it Works at Rios Brazil
After choosing from a wide variety of drinks including tropical cocktails, mocktails, beer, ciders, wines, spirits and juices, you head straight for the fresh salad bar.
Here, you can choose from over 20 different salad dishes and hot plates and most importantly, stock up as many times as you like.
Each table is equipped with a sign that you flip to the green side when you're ready for your incredibly delicious selection of BBQ meats.
When showing the green side, the chefs will bring your choice of meats directly to the table on a searingly hot skewer which will then be sliced to your liking, straight to your plate.
There are 12 different kinds of roasted meats to choose from and all of them can be cooked to your perfect liking.
When you need a quick break from all the delicious deliveries, simply turn your sign to face the red side!
If You Fancy Something Sweet
If you're enjoying your Brazilian food adventure alongside your fruity cocktail and catchy summer music, why not try some of their exotic desserts?
Brazilian desserts are a must-try if you've never had one and I can happily recommend the brigadeirao and the abacaxi grelhado com sorvete! What are these culinary delights, I hear you think? I thought you'd never ask!
Brigadeirao – Brigadeirao is an iconic Brazilian dessert. It's a rich, creamy, and velvety chocolate pudding that has been popular since the 1930s. The dish was supposedly created when an officer named Brigadier Eduardo asked his wife to create a delicious dessert inspired by one he had tried in the army. Today, brigadeirao continues to be enjoyed across the country. This unique pudding is made with condensed milk, butter, and cocoa powder for a smooth chocolatey flavour that lingers long after you eat it. It's topped off with dried or fresh coconut flakes or sprinkles for extra sweetness and texture. Yummo!

Abacaxi grelhado com sorvete – Abacaxi grelhado com sorvete is one of the most unique and delicious desserts in Brazil. It's made by roasting fresh pineapple, then topping it with a generous sprinkling of cinnamon and sugar and finally, a scoop of creamy vanilla ice cream. The combination of warm and cold flavours makes this dish an absolute delight. Not only does it look impressive when served, but its taste is unmistakably delightful. Just don't ask me how to pronounce it!
Don Churro
Shooting for something a little different, we're heading straight to dessert with Don Churro.
This heavenly dessert bar is an absolute must for anyone with a sweet tooth.
Although not a restaurant with private dining, you can walk away with a paper cone filled with hand-crafted churros smothered in all your favourite toppings! (Including a sneaky Bailey's cream. No one will know, even if it's 10am).
Try a New Type of Churro
As if churros couldn't be any more delicious, Don Churro also offer filled churros!
Enjoy one of these thick delights that have not only been rolled in your favourite topping, but also filled with tempting melted chocolate or caramel!
Not Just Delicious Churros
The ever-growing popular trend of bubble waffles is also a photo-worthy menu option at Don Churro.
Top them off with a rainbow of sweet treats, a classic Lotus biscuit or even build-your-own. You're sure to cheat your cheat day with one of these bubble babies!
Drinks and Ice Cream
If you want to jazz up your classic ice cream delights, you can add a waffle, churros, sauce AND a generous topping white chocolate drops, Lotus biscuits, sprinkles and many more!
You can also wash down your new favourite dessert with a creamy, refreshing milkshake or a luxurious hot chocolate.
YC Global Buffet Swindon
Do you like trying out new cuisines? Are you an adventurous food lover who loves a good buffet? If so, YC Global Buffet Swindon is for you.
This eatery offers diners a chance to explore dishes from around the world all in one spot. From Chinese and Indian to Thai, Mexican and much more!
There's something for everyone and as if that wasn't enticing enough, they also offer all-you-can-eat options, top-notch customer service, and convenient online ordering.
Whether it's lunch with colleagues or dinner with friends and family, YC Global Buffet Swindon brings worldwide flavours right to your plate.
The Chinese Bar
At their Chinese food bar, you can all the deliciousness of China such as dim sum, fried noodles, spring rolls and beautiful chicken and duck dishes.
The Thai Bar
For those who are looking for a little heat, guests can try a selection of aromatic Thai dishes such as Tom Yang Goong, Pad Thai, Massamam curry and ginger tofu.
The Malaysian Bar
If you fancy trying something new, take advantage of their Malaysian bar! Here you can find fragrant dishes such as Malay chicken curry, Nyonya beef, Sambal squid and acar-acar.
The European Bar
Sometimes what you really need is an unlimited plate of carbs (there's no judgement here!). And if today that's you, then make a beeline for the European bar.
Here you can find delicious hot pizza, saucy pastas and if you really want to push the boat out – fresh green salads.
Giraffe
Situated along Kemble Drive, Giraffe is the perfect stop for those seeking out dishes of rainbow goodness that warms the soul.
The food served here is always fresh, delicious and nourishing.
They also have fantastic vegan options, a brilliant kids menu and if you like to drink your food, they have a heavenly smoothie menu too.
Giraffe is also good news for students as they offer 10% off your food bill any time of day, any day of the week!
To find Giraffe in the Swindon Designer Outlet, just look for the 10ft giraffe hanging around outside!
What Will Your Next Food Adventure Be?
So that concludes our food adventure at Swindon Designer Outlet.
Whether you're visiting for a fun-filled day of shopping or planning your pay day trip, you won't be leaving without a belly full of good food and a head full of good memories.